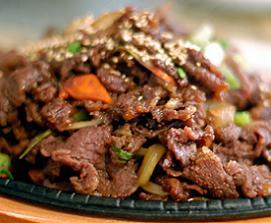 A few more highlights from a week of putting food to the palate in Penang:
1. Bulgogi (pictured here) at the Korean restaurant across from Island Plaza (with a Tiger beer)
2. Nasi Goreng to the heart's content, complete with two crispy pappadam
3. Bento set (Japanese). I ordered it with chicken and, of course Miso soup (pictured below)
4. Chicken Tika with garlic naan from none other than Kapitan's on Chulia street (the building where I've been writing the stories for the booklet is a few doors down from one of the best restaurants in Penang)
5. Cendol (note the inspiration of one of my characters in upcoming novel… a shout out to one of my favourite desserts).  And, no, they're not worms.  They're deliciousness personified in green.  (see image below).
6. Roti Tissue – I'm told not the most manly choice, but delicious in its crisp thinness and amply dappled in susu manis (sweetened condensed milk).
7. More wan tan mee soup (did you know wan tan's are always pork based?) for breakfast.
8. Starbucks and Coffee bean Americanos for the fix, along with thirst quenching dregs of Barley Sui Kamping (barley with lemon, spelled atrociously from the Hokkien), Teh Ice, Teh Tarik in the mornings, and a lime/plumb drink here and there along with my staple: watermelon juice.
Most meals cost between 3 and 10 RM, which is between 1 and 3 USD-ish.
thanks to bloggers and their love for food: click images to see the source sites